The upcoming Samsung's Galaxy x Foldable cell phone is the one that inspires adoration and annoyance among the Android lovers at the same time. It is the latest cell phone technology of Android OS till dates that yet to come and its foldable design means you can carry around a tablet and smartphone of Android right in your pocket and get plenty of work done alongside. It is a kind of a mobile phone device that offers a glimpse at the future of android cell phone. The foldable android smartphone looks quite chunky and clumsy but it is coming up with breathtaking features that surely shock the Samsung lovers.
Previously, we have discussed how Samsung Galaxy X foldable initially designed and we have published an infographic on it. Now we are going discuss the latest Samsung device that is about to release and TheOneSpy has made changes and upgrades its tool to monitor the latest foldable phone prior to its release.
Rise & Rise in Cell Phone Technology: New Emerging Parental Challenges
Today, parents are worried about the children activities on contemporary cell phones connected to the internet. On the other hand, they are being forced by the teens and kids to buy them latest android cell phones and they cannot back out their promise.
They have to buy the cell phones because as for as cell phone vulnerabilities are concerned at the same time it is important for the kid's routine life. However, parents do want to keep an eye on their children mobile phone devices in order to protect them from cyber dangers, bad and sexually explicit activities.
Modern children are living in the hyper-sexualized world and the cell phones are the root cause of it. Apart from the nightmares kid and teens used to of facing likewise stalking, bullying online, sexting, obsession with the social media apps and others.
The new emerging parenting challenges for parents is at their peak such as youth radicalization online, teens pimping out other young teens via social media, online shaming and addiction with unnatural sexual activities like pornography. All this factor comes to gather have become a serious threat to youth with the use of smartphone, social media and internet.
Therefore, parents, these days are quite keen to snoop on teens android cell phones.  Therefore, TheOneSpy has made prior arrangements to upgrade its Android monitoring tools with the accordance of the parental challenges parents are facing. So, TOS upgrade will let parents track any latest android device including Samsung Galaxy X Foldable in near future to the fullest.
TheOneSpy Top 11 upgrades to monitor Samsung Galaxy Foldable
1) IM's Logs monitoring Without Rooting: Exclusive
TheOneSpy has come up with its exclusive feature IM's logs monitoring without rooting. It empowers the end user to monitor the logs of the trendy social media apps logs likewise Line, Viber, WhatsApp, Instagram, Snapchat, Kik and others alike. You can use this powerful tool on Samsung Galaxy X foldable phone without rooting the device.
2) Monitor Samsung Galaxy X Front & back camera
The latest Samsung Galaxy foldable device has pulled out all stops and has added six camera lenses. The first camera has a lens on the cover above 4.6 inches super AMOLED front display. On the other hand, TheOneSpy empowers you to remotely control the target device front and camera no matter how much lenses have been added you can monitor surround and make short videos using spyvidcam bug. This will keep you updated about surround activities of a foldable smartphone.
3) Remotely Control Samsung Galaxy X Foldable phone's MIC
It simply gives you supernatural powers to remotely control android MIC of Samsung foldable device . In addition, you can record and listen to the surrounds in terms of conversations, Voices and sounds using MIC bug app of the android monitoring software.
4) Record & listen to the Galaxy X foldable phone calls
You can make ingress to the Samsung Galaxy X foldable android device and further you can secretly record and listen to the incoming and outgoing calls in real –time using TOS secret call recorder tool. You can take a further step ahead and do magic by saving all the calls recorded data to the online control panel.
5) Monitor Browsing History on the foldable smartphone of android
You can use powerful tools of the cell phone monitoring app and you can get access to the Galaxy X foldable device installed browsers. In addition, you can access to the visited apps, websites with a time stamp. However, you can also get to know all the bookmarked websites.
6) Samsung Galaxy X Foldable Screen: monitor with live screen recorder
The latest Samsung fold phone is coming up 4.6-inch display mode and folds out to reveal a separate 7.3 inch Dynamic AMOLED display that has a resolution of 2,152 * 1536 pixels, and on the other hand, small Super AMOLED 4.6 inch display is coming up with the resolution 1,680 *720 pixels.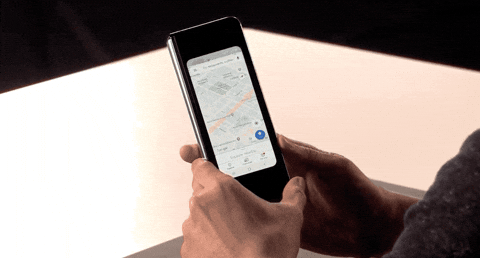 TheOneSpy gives you unmatched and exclusive power to perform live screen recording. It enables the user to make short videos of the screen in real –time and recorded videos you can watch having access to the android tracking app online web portal. It enables parents to monitor social media activities, browsing activities, YouTube, applied passwords, emails, SMS and others.
7) Track GPS Location of Galaxy X foldable phone
If you have been installed phone spy app for android on the target device then you can simply track the GPS location of the target Galaxy X foldable phone with pin point accuracy. In addition, you can track location history, weekly location history and further you can set the MAP for the target foldable phone user in terms of save or restricted areas. All you can do it with the location tracking app of the cell phone spy software for android.
8) Monitor Emails on Samsung Galaxy X Foldable phone
Apart from typical parental activities monitoring you can track sent received emails on the target android Galaxy X foldable phone with email tracking app using TheOneSpy online web portal.
9) Get logs of Instant messaging apps active on Samsung Foldable phone
The latest Samsung foldable have high memory and space to install apps you like the most. Teens usually install trendy social media apps that you monitor in terms of activity logs to the fullest. So, you can monitor text messages, conversations, sent received WhatsApp and Facebook Voice messages, last but not the least multimedia sharing.
10) Remotely control activities on Samsung Galaxy X foldable
The most powerful feature that you will come across once you have installed the parental monitoring app for the android foldable phone is a remote android controller. It gives you an edge to remotely discover installed apps; you can block text messages, block incoming calls and remotely block internet access to the fullest.
11) Track Keystrokes & read messages on Android foldable device
You can get to know about the applied keystrokes on target phone with Samsung parental controls in terms of passwords keystrokes, messenger keystrokes, SMS keystrokes. In addition, you can spy on text messages of android cell phone sent received.
Conclusion:
Since Samsung has announced the latest foldable cell phone device, TheOneSpy has upgraded its monitoring tools to deal with the emerging parental challenges for parents due to the latest cell phone technology connected to the internet. Now you can monitor your teen's latest Samsung foldable smartphones to the fullest.